ULTRA-FAST ACTING PERIOD PAIN RELIEF
OUR FAR INFRARED GRAPHENE HEATING PAD TECHNOLOGY HEATS UP IN LESS THAN 5 SECONDS Monthli uses a decade old scientifically proven method known as TENS Pulse Therapy to effectively block pain signals from reaching the spinal cord and brain. Simultaneously, Monthli also stimulates the production of endorphins, which are the body's natural pain killers! Monthli offers a natural and drug free option to women experiencing menstrual pain on a regular basis. We get it sisters, instead of pumping your body full of pills, Monthli uses science to help you feel the relief you truly deserve! No more unbearable pain and zero side effects! Monthli is the world's first period pain relief wearable device to incorporate a fast-acting heating pad technology! When activated, Monthli heats up to an optimal temperature of 108°F (42°C) in less than 5 seconds! Think that's impressive? We also offer 5 types & 20 levels of pulse therapy for that instant relief! If you love the convenience of Airpods then you'll love our 100% wireless & cordless design too! Now you never have to worry about tangled cords or external gel pads accidentally ripping off and interrupting that sweet relief. With 1 charge, Monthli offers up to 20 hours of pain relief, it truly is the gift that keeps on giving!





We designed Monthli to be user friendly and easy to use, because who has time to sort through tangled cords when a wave of period pain can hit without warning?
"I like to place Monthli where my cramps hurt the most, Ievel up on pulse therapy as needed, and feel the gentle vibration take away the pain. My secret weapon is the heating pad function. Sometimes when my endo is really bad, I'll combine this with pulse therapy, it's a win-win!" -Sara K.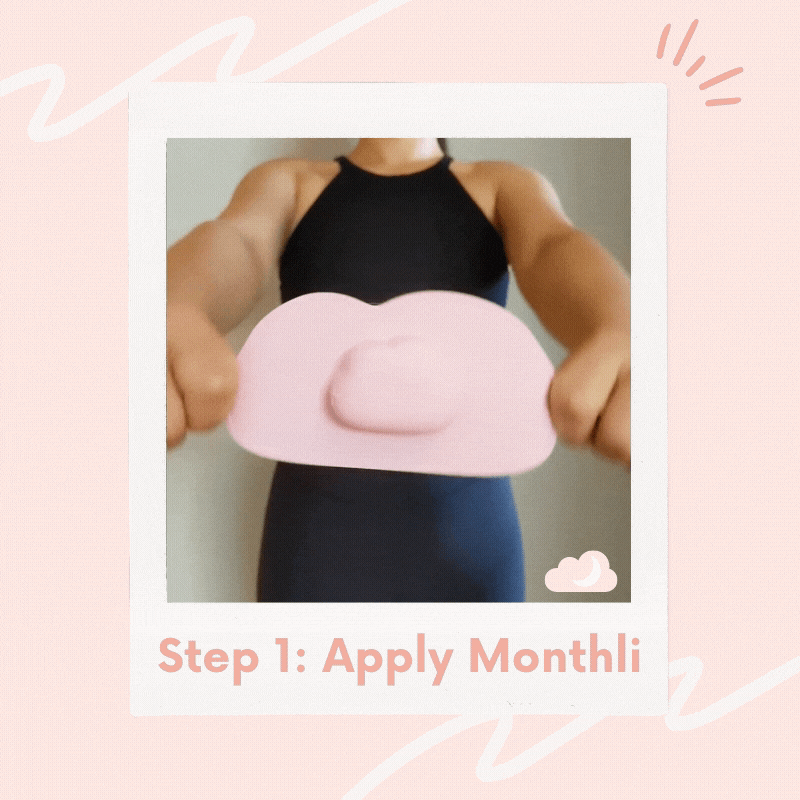 Place Monthli on the area which you're experiencing pain. Our wireless & discreet design makes Monthli easy and quick to apply for immediate, long-lasting relief.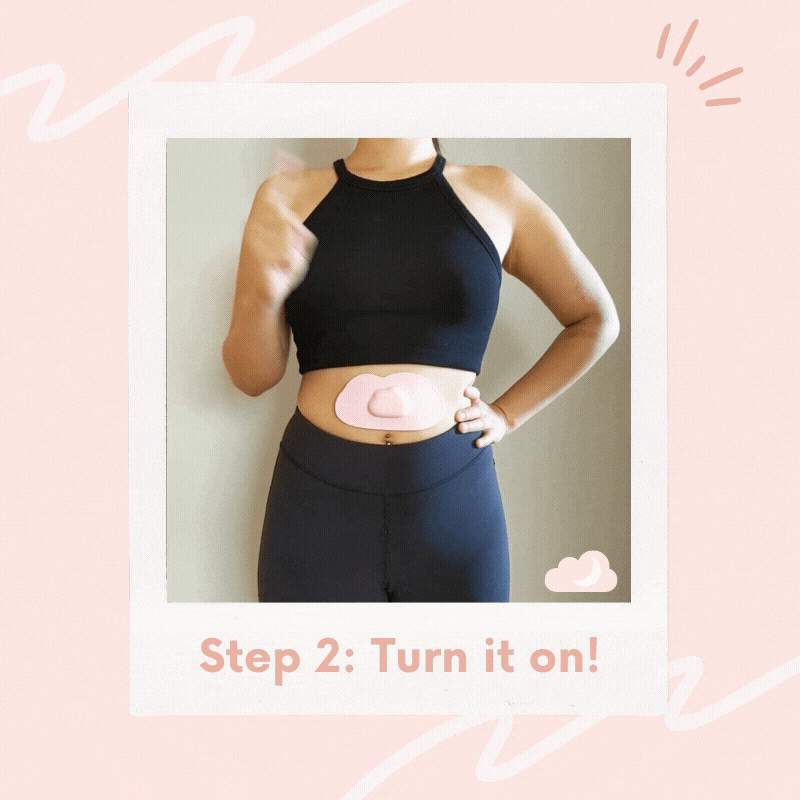 Activate Monthli with the simple push of a button! Easily adjust to your desired level of pulse therapy and try out our rapid heating pad feature while you're at it!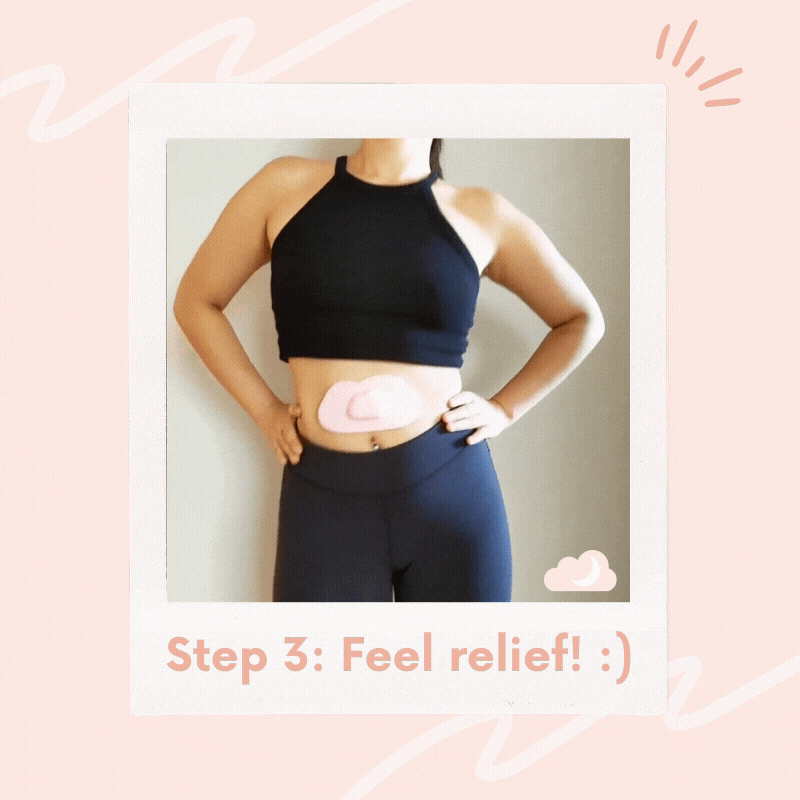 Monthli effectively blocks pain signals from reaching the brain so you can carry on living your best life, pain free...period.
Monthli 2-in-1 Instant Period Pain Relief Device

2 x Monthli Gel Pad Refill (Two Months Supply)
READY TO TRY MONTHLI FOR YOURSELF?
This has changed my life in the past couple weeks
I've been in pretty severe pain for a few years now-- first thought it was IBS, now am waiting on surgery so I can hopefully get an endometriosis diagnosis. That being said, whatever is going on I have terrible abdominal pain and bloating daily. I've never used a TENS unit before, and I chose this one because it was the only one I could find that also has a little heating component involved, which is what I usually use (heating pad for the pain).
This was worth every cent to me. I rarely write reviews but I asked the company to send me a link to fill one out because the people need to know lol. My pain and nausea are so severe that it doesn't necessarily make it go away completely, but the relief it does give is much needed. I honestly don't know how I would be able to go through this waiting time for a diagnosis without it. Thank you!!
A game changer
With this device I can actually function without practically taking half the bottle of ibuprofen and being married to my heating pad in bed. It doesnt make my cramps magically disappear but it alleviates the pain enough for me to work and go out without issue. The first time I used the device I only needed 2 ibuprofen the entire first day of my period. I love that it lasts the full day although I wish the heating pad function lasted longer.
IUD Friendly
To start off, I should mention my cramps are very severe due to having an IUD implant, I was taking 2-3 prescription Naproxen pills per day when I was at my worst. Monthli definitely works, but sometimes when the pain is really bad, you can definitely still feel the cramps. All things considered though it's much much more bearable to the point I haven't taken anymore Naproxen since I started using Monthli. I'm finally learning to love my menstrual journey more and more everyday now!
As a stay at home mom I'm often running around the house cleaning up after my 3 kids, preparing lunches and dinners along with countless other tasks. When my period hits it can make even the smallest chore seem impossible. Monthli has allowed me the few hours of relief I need in order to get through these busy days. The heating pad is such a smart addition to this already amazing product. Strongly recommend to anyone who is seeking some solace from their painful period cramps!
Cruelty free & Vegan friendly
I'm vegan and I've been scouring the internet for an animal cruelty-free period pain relief option for a long time. I hated depending on pain medication because most pharmaceutical companies perform testings on animals. With Monthli, I can finally say goodbye to the one part of my life that depended on animal-tested products. I also love how Monthli decreases my carbon footprint because one device will last me for years to come!
Still Got Questions? Visit Our FAQs Page For All Your Answers!