ULTRA-FAST ACTING PERIOD PAIN RELIEF
OUR FAR INFRARED GRAPHENE HEATING PAD TECHNOLOGY HEATS UP IN LESS THAN 5 SECONDS Monthli uses a decade old scientifically proven method known as TENS Pulse Therapy to effectively block pain signals from reaching the spinal cord and brain. Simultaneously, Monthli also stimulates the production of endorphins, which are the body's natural pain killers! Monthli offers a natural and drug free option to women experiencing menstrual pain on a regular basis. We get it sisters, instead of pumping your body full of pills, Monthli uses science to help you feel the relief you truly deserve! No more unbearable pain and zero side effects! Monthli is the world's first period pain relief wearable device to incorporate a fast-acting heating pad technology! When activated, Monthli heats up to an optimal temperature of 108°F (42°C) in less than 5 seconds! Think that's impressive? We also offer 5 types & 20 levels of pulse therapy for that instant relief! If you love the convenience of Airpods then you'll love our 100% wireless & cordless design too! Now you never have to worry about tangled cords or external gel pads accidentally ripping off and interrupting that sweet relief. With 1 charge, Monthli offers up to 20 hours of pain relief, it truly is the gift that keeps on giving!





We designed Monthli to be user friendly and easy to use, because who has time to sort through tangled cords when a wave of period pain can hit without warning?
"I like to place Monthli where my cramps hurt the most, Ievel up on pulse therapy as needed, and feel the gentle vibration take away the pain. My secret weapon is the heating pad function. Sometimes when my endo is really bad, I'll combine this with pulse therapy, it's a win-win!" -Sara K.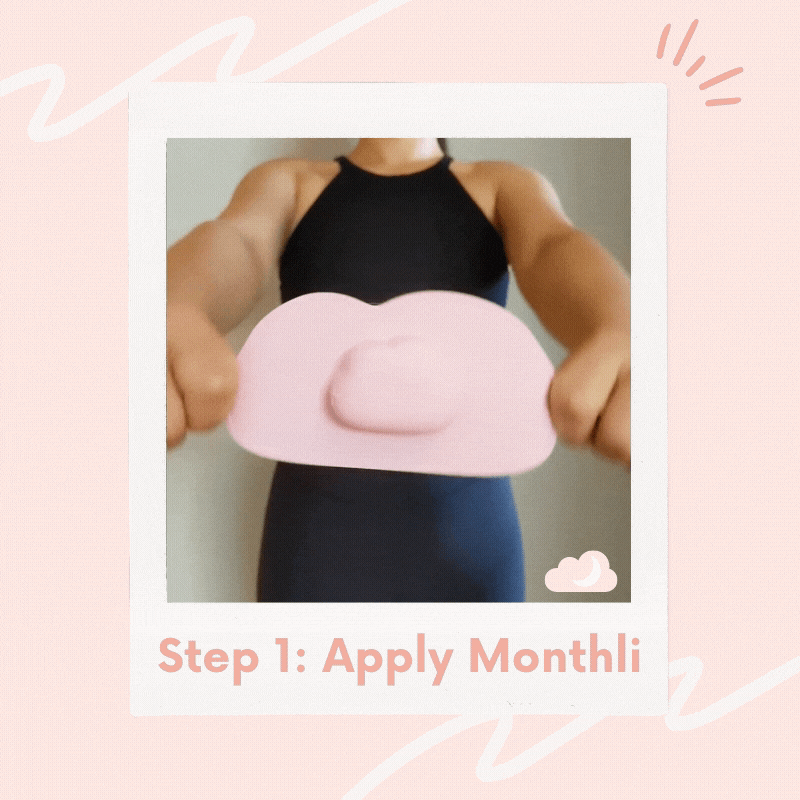 Place Monthli on the area which you're experiencing pain. Our wireless & discreet design makes Monthli easy and quick to apply for immediate, long-lasting relief.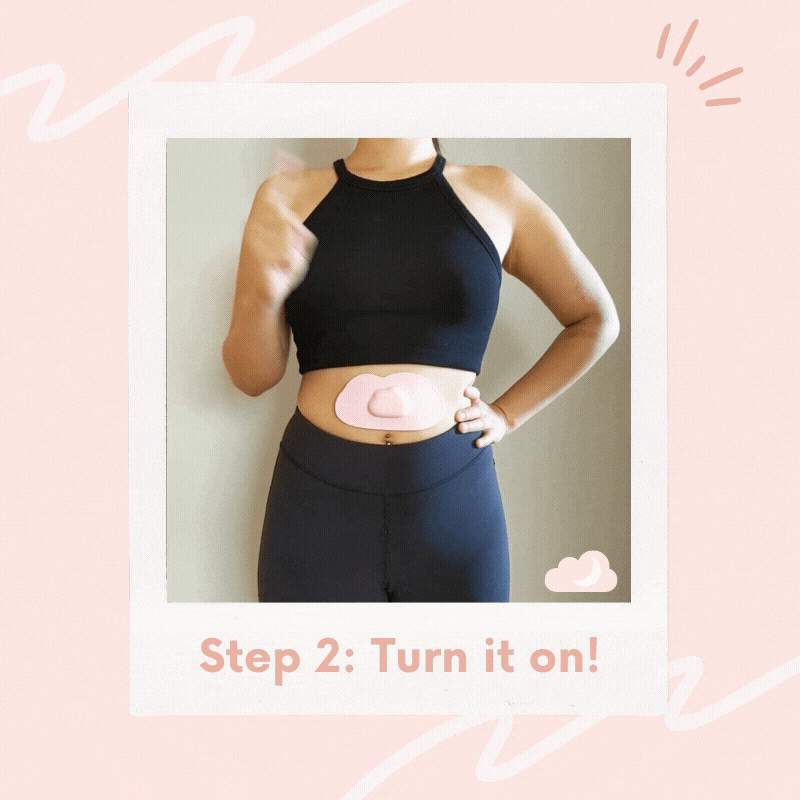 Activate Monthli with the simple push of a button! Easily adjust to your desired level of pulse therapy and try out our rapid heating pad feature while you're at it!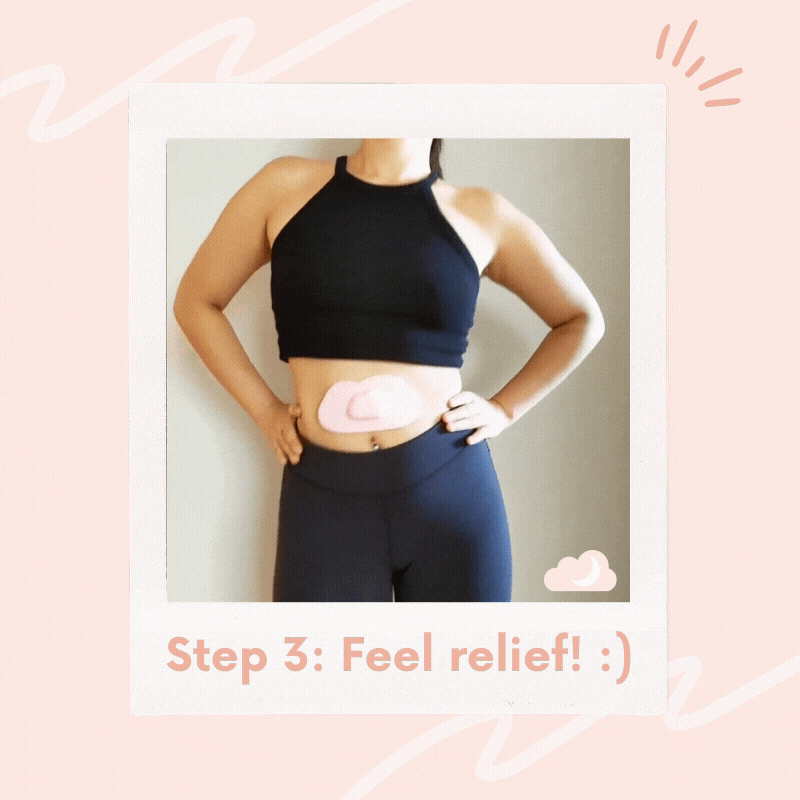 Monthli effectively blocks pain signals from reaching the brain so you can carry on living your best life, pain free...period.
Monthli 2-in-1 Instant Period Pain Relief Device

2 x Monthli Gel Pad Refill (Two Months Supply)
READY TO TRY MONTHLI FOR YOURSELF?
It works! My wife is happy!
At first I was skeptical that it will work for my wife, but I desperately wanted to help her during her period pains. But after she tried it, she immediately noticed a relief of her pains. Of course, it does not take the pain completely, but is sure does provide a great relief. Also, her period shortened with one day, which I am very happy about :). And guess what, now I have to order another for my mother in law :) I highly recommend this product, at least try it, you might be surprised.
Better than other competitors for being wire-free as well as heating. Love the "scraping" massage
I experience cramps that usually require 1-2 ibuprofen every 6 hours. Taking a lot of ibuprofen early in your cycle can interfere with ovulation so I decided to try the Monthli device. I really like that there are no wires and that there is a heating function, which is why I bought the Monthli over its competitors.
My favorite "massage" mode to distract me from my cramps is the one with sharp strong pulses that feel more penetrating into my uterus than the more gentle modes; it is very effective even at a low intensity.
I have a few suggestions: even though I am thin, the device sometimes gets displaced by clothes because my lower belly is a bit rounded; I suggest buying sports tape or wearing a tight shirt/shorts to secure it after you have it on. I also wish that the device had an option to turn off the beeping sounds it makes when you turn off/on and change modes. It would also be nice if the heating mode lasted longer than an hour, but creating heat takes a lot of energy and I do not fault the creators of the device in this regard. It is a nice function to have anyways.
LOVE the heating element
Overall this device DOES help with pain management for my PCOS and endometriosis as it brings some relief through the massage and heating features. I was able to stand up straight again! The heating feature is the most enjoyable honestly. The massage is very nice but could be improved if it had more than 1 electrode.
Pros: wireless, built in heater, effective, fast charging, long battery life when only "massage" option is used.
Cons: short battery life when "heating" option is used, only 1 electrode for "massage" element.
Overall opinion: i LOVE it! It's not perfect and it isn't a cure but it is a very helpful pain management tool for my intense menstrual cramps. I recommend this to anyone willing to give it a try.
This has changed my life in the past couple weeks
I've been in pretty severe pain for a few years now-- first thought it was IBS, now am waiting on surgery so I can hopefully get an endometriosis diagnosis. That being said, whatever is going on I have terrible abdominal pain and bloating daily. I've never used a TENS unit before, and I chose this one because it was the only one I could find that also has a little heating component involved, which is what I usually use (heating pad for the pain).
This was worth every cent to me. I rarely write reviews but I asked the company to send me a link to fill one out because the people need to know lol. My pain and nausea are so severe that it doesn't necessarily make it go away completely, but the relief it does give is much needed. I honestly don't know how I would be able to go through this waiting time for a diagnosis without it. Thank you!!
A game changer
With this device I can actually function without practically taking half the bottle of ibuprofen and being married to my heating pad in bed. It doesnt make my cramps magically disappear but it alleviates the pain enough for me to work and go out without issue. The first time I used the device I only needed 2 ibuprofen the entire first day of my period. I love that it lasts the full day although I wish the heating pad function lasted longer.
Still Got Questions? Visit Our FAQs Page For All Your Answers!